Posted by Member Bort on 12/28/14 06:12 AM #1

Posts: 551
---
This is my guide on the conquest:

The goal: Finish the game Act 1 to Act 5 in 1 hour or less.
The need for speed.
This achievement is all about speed. The best classes to attempt this with are either Demon Hunter or Wizard. Some of the other classes can succeed, but I believe these are the best ones to try it with.
The 60 minute target is real tight. You have to do anything and everything to gain time.
My Sprinter group finished in 58:30.
My Speed Racer group finished in 59:59. No really, 1s to spare.
Do it on
Normal
. Even a couple of seconds wasted fighting a boss can make the difference between success and failure.
Have at least some DPS. Same as above. Time wasted on boss fights are time wasted. My wizard had about 700k display unbuffed damage when I did this.
Set all your graphics settings to minimum. Time wasted looking at load screens makes a difference in this.
Never stop to loot. Wave those legs good-bye as you go.
Have a skill that shoots open doors as you move. Wizard teleport rune Calamity or DH vault rune Action shot.
Know the maps. Kinda obvious, but you should know the fixed maps at least to help burst through them as fast as possible.
Party setup
.
I have read that people have solo'd this. And I believe some 2 man parties have succeeded, but I suggest a 4 man party. 3 "runners" and 1 "towner".
The job of the runners are to move through the maps as quick as possible.
The job of the towner is to progress the questline as fast as possible. So basically he sits in town, and just activates the next quest dialog. This helps a lot especially in acts 1 and 2. The towner should know the campaign real good. He has to know who the next quest giver will be, and if possible where he will stand.
Allocate roles and directions
The runners should agree beforehand who will do boss fights, and who will setup next area.
For example. When fighting the Skeleton king 1 guy is in town. 2 are fighting (so this should typically be the 2 runners with the highest dps) while the 3rd runner goes to the cemetery and be ready to enter fields of misery. It really helps to know before each fight whether you should accept or decline the fight.
Also nominate your direction, either before game or while running. If all 3 runners enters a large area like Fields of Misery, and all head to the right side of the map it won't help much. Instead one guy should go left, one right, and one up the middle.
Discuss before hand how you will indicate you found the next area entry. Example use "+" or "here" or "tp". Doesn't matter what you use, but be sure that everyone know's what to look for, since there is not a lot of time for typing.
Gearing up
I have experience on both the DH and Wizard. Have played both, and seen both in action. The other classes I will give info but is only from what I heard or read.
Wizard:
+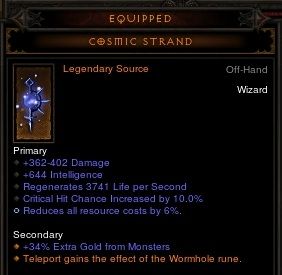 . The wizard is all about
teleport
.
Aether walker mostly removes the cooldown of teleport, and Cosmic strand allows you to use both Wormhole and Calamity runes. Wormhole for even quicker teleport casts, calamity can shoot open doors. You should be able to perma-teleport. If you run out of arcane power try to get some resource reduction gear.
Demon Hunter:
+
. The DH is all about
vault
.
You should be able to perma-vault. If you run out of hatred try to get some resource reduction gear or gear that gives extra hatred.
Crusader: Swiftmount Flail required for Perma horse.
Monk: ?? Dashing Strike
Witch Docter: ?? Haunt?
Barbarian: ?? No idea